This is one of the senior project that I advised in Semester 2/2016.
The goal of this project is to develop a system that can analyze comments or reviews, particularly on Thai restaurants, extracted from sources such as Facebook and/or Wongnai. We are trying to classify the reviews into 3 classes i.e., positive, neutral and negative.
Objectives of this work are as follows:
To develop an algorithm that can analyze the sentiment of any Thai text.
To devise a framework to support aggregation of result to produce an overall sentiment.
To develop a front-end web page with clear presentation of analysis result.
As you can see in the following screen shots, the ratio of positive, neutral and negative reviews as analyzed by the system is shown along with the reviews that are classified into each class.
Analysis Results on Restaurant 1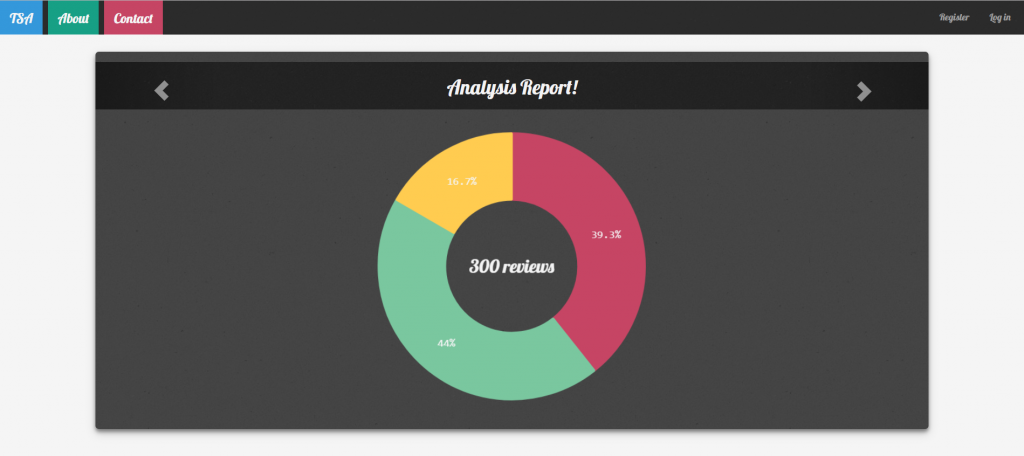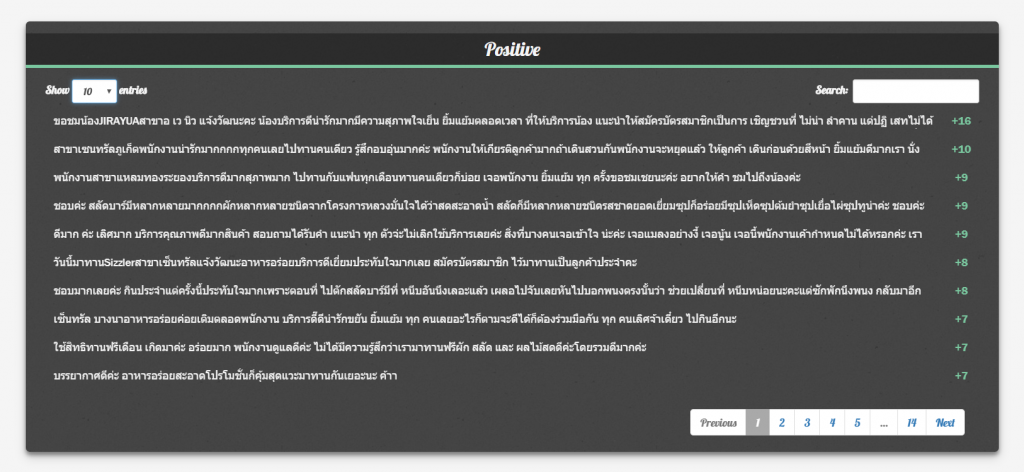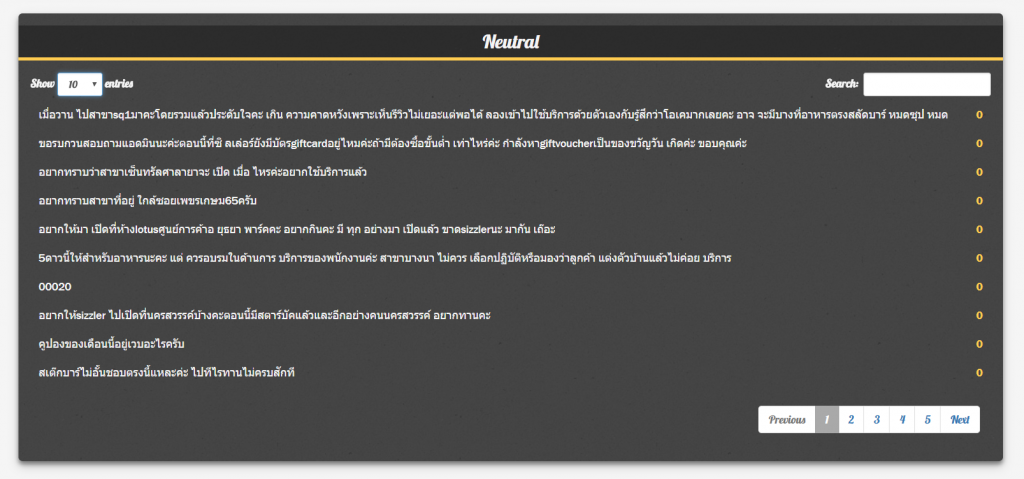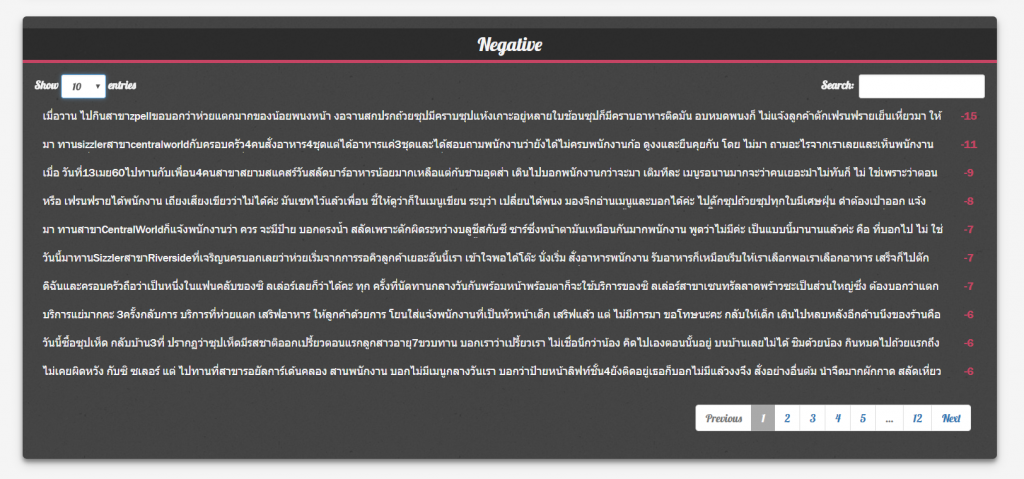 Analysis Results on Restaurant 2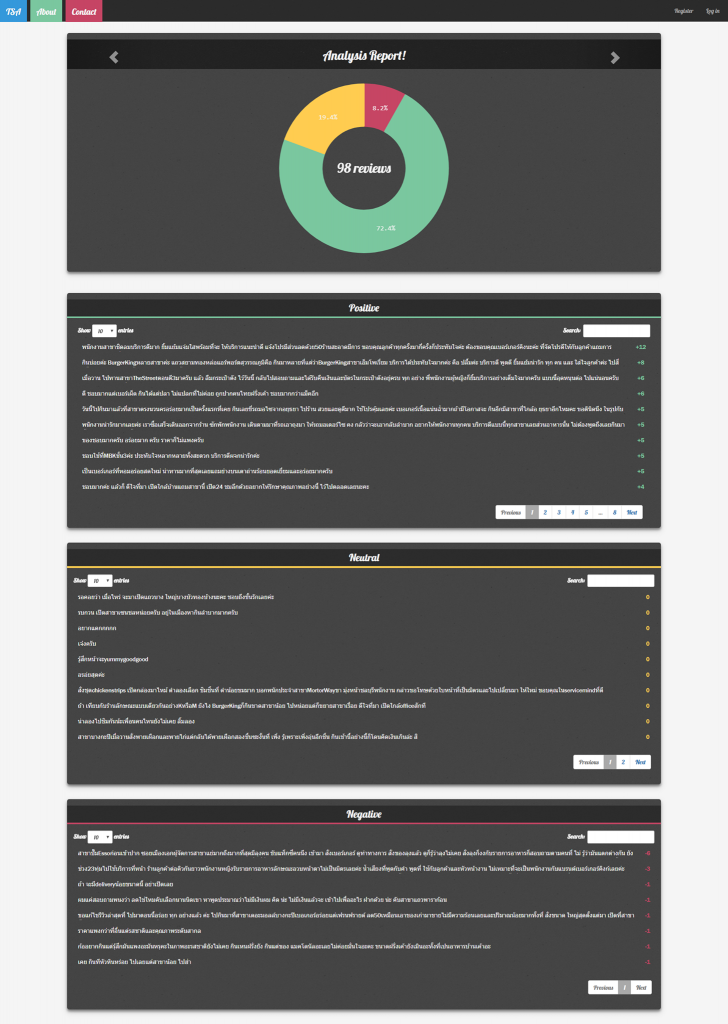 In the restaurant domain, there are several aspects that customers normally comment on such as cleanliness, the taste of the food, the restaurant's atmosphere, service, and price. We also attempt to extract how customers view the restaurant from such aspects. There are still rooms for improvement on this detailed analysis.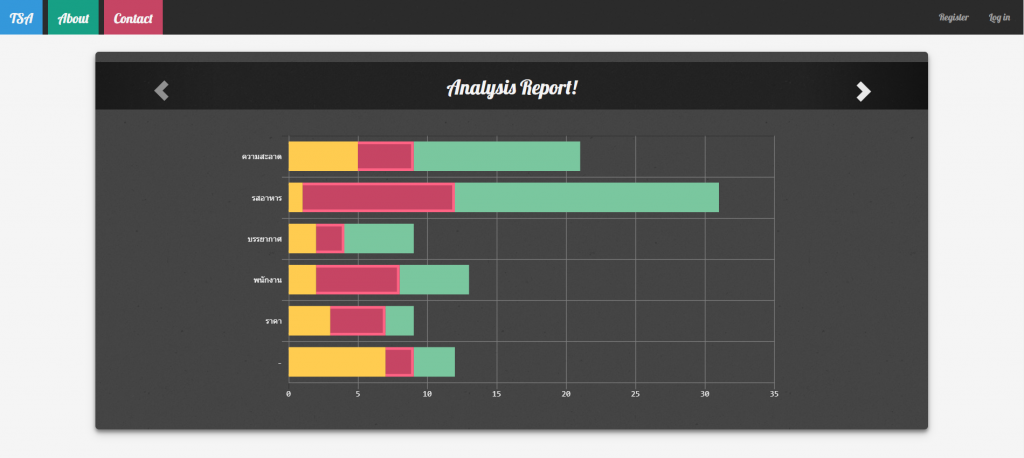 Challenges and Discussion
Since there is no word and sentence boundary in Thai, the accuracy of our analysis depends on how well the words are segmented.
Thai corpora and other resources for Thai Natural Language Processing are still limited. We have to do a lot of manual collections of Thai words and sentiment labeling.
Our current approach cannot deal with sarcasm at all. This issue is definitely what we will extend the work on in the future.
Reviews that contain mixed opinions (i.e. reviews that contain both positive and negative comments) is also difficult to classify. We think that such reviews are also useful to the restaurant. Since our current technique determine the overall sentiment of a review, such information is lost. We also plan to handle this issue in future extension.
Deliverables
Report