Collaboration with True Corporation
2019-06-07
2021-06-12 10:41
Collaboration with True Corporation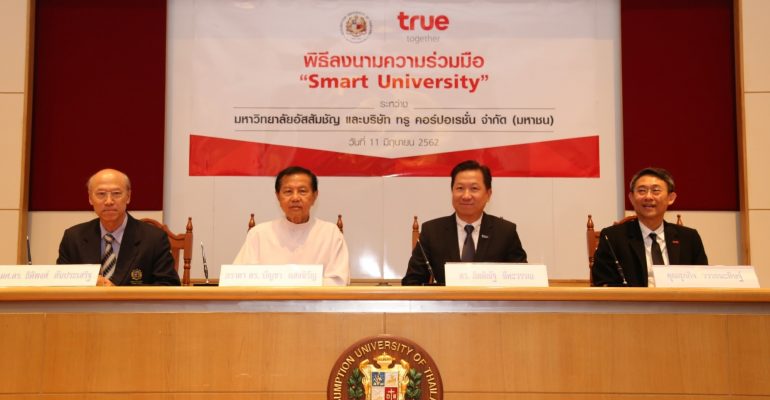 Collaboration with True Corporation
True Smart University & Assumption UniversityAssumption University's Vincent Mary School of Science and Technology has signed an MOU in close cooperation with True Corporation Public Co. Ltd. The partnership aims at realizing the following mutually beneficial ambitious ventures:
True cashless project & service providing AU students' modern payment methods for various fees with ease and more convenience.
True sponsored cooperated research projects and academic developments.
Joint worthwhile social activities or responsibilities etc.
Establishment of True Lab at Assumption University for further cooperated innovations or achievements and True Academy as the platform for AU students' training or internship programs; among other highly advanced digitally related technological projects or developments. Representing Assumption University during the MOU signing ceremony on June 11, 2019, at Suvarnabhumi Campus, were Rev. Bro. Dr. Bancha Saenghiran, President-Rector Magnificus, Asst. Prof. Dr. Thitipong Tanprasert, Dean, and Dr. Soonthorn Pibucharoensit, University Registrar, while True Corporation Public Co. Ltd., was presented by Dr. Kittinut Tikawan, Group President (Co), and Mr. Suphakit Vuntanadit, Group Chief Commercial Officer, witnessed by other AU Vincent Mary School of Science and Technology's management team, officials and distinguished guests.